So we've experienced nature overkill of the Woods-wallpaper kind...but let's not give up on the tree theme altogether. I've been a fan of the tree/leaf motif ever since Jennifer Aniston wore
this
beautiful gold leaf necklace in The Break-Up. Then the contemporary, indoor-types went wild for unfinished wood, rustic touches, and of course, Cole & Son wallpaper. Well, I'm willing to bet on the next green-chic accessory for the home. Don't laugh. Someday you'll have one too. A wood stump side table.
This is definitely not encouragement to go out to your neighbourhood forest and have fun with a little DIY project. Someone in Toronto will happily sell one to you, so save your man the dirty work.
People have been onto this idea for a long time - in Sudbury. They've been using these stumps to sit around campfires for...probably centuries. Now, the YUPPIE communities will bring them inside.
Consider it a side table, extra seating at parties or just a little touch from the great outdoors. This is the real deal.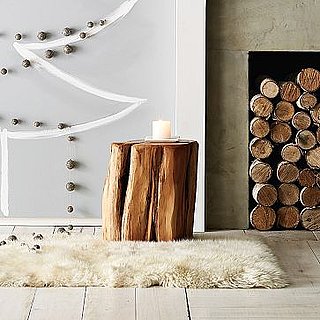 If you're too nervous to go for the true lumberjack cutting, these lovely alternatives (from Arteriors Home) might just do...