I truly believe great design is in the details, including everything as seemingly trivial as the flushmounts on the ceiling. I'm working with a client to revamp her new condo, and she's in need of updated lighting. We've chosen a beautiful (but not over the top) chandelier for her dining room, a feminine pendant for her master bedroom, and I can't help but offer up my two cents on the remaining flushmounts. They're the type of thing that when they're nice, they go relatively unnoticed, but when they're bad, they're BAD.
I steer far away from ever recommending the general hardware store's 'Madonna' type fixture....you know, this one:
But I've had several questions about the best flushmounts for overall lighting and I figured it was time to get back to blogging...
Here are my top six (I couldn't get rid of one) flushmount lighting suggestions:
1. Heath Flushmount by Restoration Hardware
I must admit, I recommend this light regularly because it works so well in traditional, transitional and modern spaces (I think that covered them all?). Restoration Hardware offers it in a variety of sizes and finishes, and all for a reasonable price (and they ship quickly)! When in doubt, use Heath.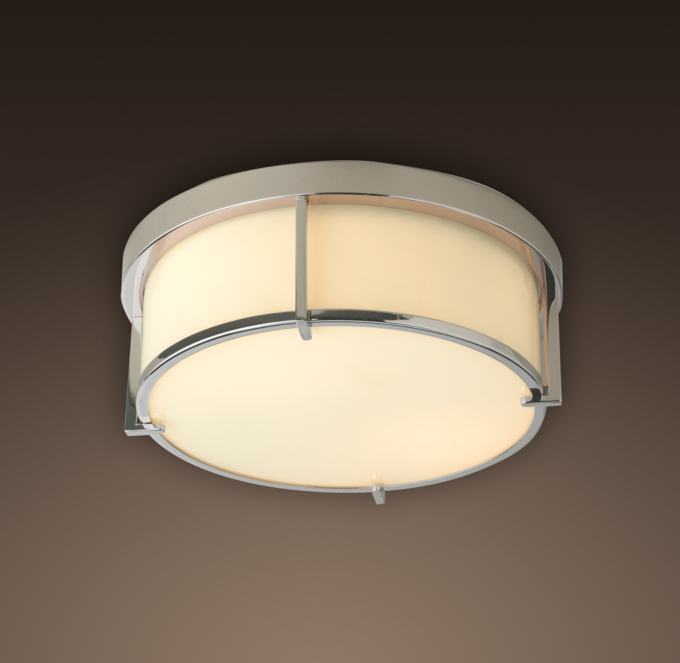 2. White Fabric Flushmount
A fabric flushmount offers a beautiful softness that works particularly well in bedrooms. I like this design's reference to the popular circular pendant shade, but in a flushmount style - and the price is right!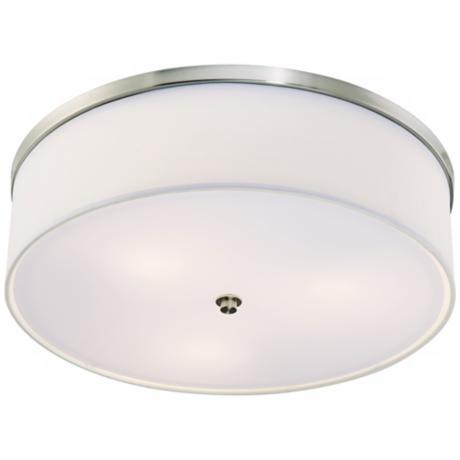 3.
Middlebury Round by Hudson Valley
The detail on this light is what makes it so appealing to me - and it provides the right amount of sophistication where a flushmount is required. It also comes in a square version, various sizes and three finishes...it's high-end in every way ($$).
4. Siena Flushmount by Circa Lighting
This nautical-inspired light is simple enough to go unnoticed, yet with enough nickel (or chrome, bronze or brass) to garner positive attention on the ceiling. I wouldn't think twice about using this in a cottage.
5. Nouveau Doughnut Flushmount by Robert Abbey
Generally, I lean towards round flushmounts (I guess that's obvious), but I love this transitional piece by Robert Abbey. It's quite understated and likely to stand the test of time.
6. Large Basil Flushmount by Alexa Hampton
I absolutely ADORE this light (particularly in brass)! I'm a huge fan of the quatrefoil pattern and this adds just a touch of whimsy and elegance to a front foyer or bathroom that doesn't have the height for a pendant.
There you have it - even flushmounts can be beautiful things.