I absolutely love Sundays. They're a great excuse to relax, do what you like and...be lazy. Gone are the days of multiple coffees and a drafting table, hurrying to finish school projects. The day is mine! I love to spend them cooking and baking, watching movies, and occasionally dreaming up new DIY projects. This Sunday, I was mid-shower when I decided to repaint my desk for the 700th time. (I've had this desk since I was a kid and it has been victim to most of my creative mistakes.) Within an hour, I was at Benjamin Moore having the latest colour mixed up.
Lately, I've been loving this "Sarah Richardson royal blue" that has a slightly purple undertone...it's bold, bright and feminine. I debated painting the top of the desk in this colour, and the rest a bright white. That idea died within about 5 minutes, when my resistance to anything too colourful took over. Back to the drawing board...
Insert
Chelsea Textiles
. Glossy lacquer. Neutral palette. This is so me.
Then I start dreaming of the hardware possibilities. Brass. Loving brass (when will my coworkers finally agree??). Maybe a glass and brass combo - feminine, traditional. We're getting warmer.
I must learn to let even the slightest bit of colour in. Open up the paint deck. Gray, with a hint of purple. Sea Life. Sold.
The girl helping me at Benjamin Moore is so sweet and recommends Aura paint in a pearl finish. Less odour, faster drying time and that lacquer look I love. Sold.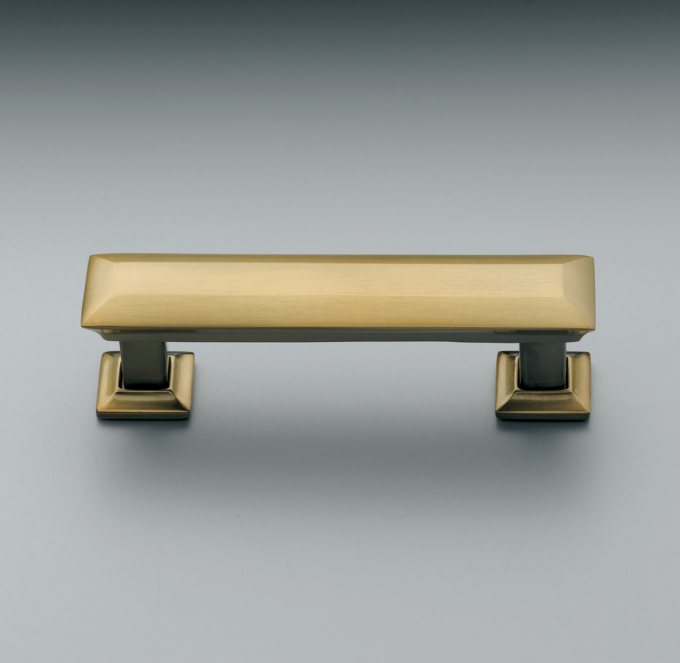 Colour looks amazing (running between Grammy performances and second coats). Go online to find hardware while it dries....at Restoration Hardware. Deal of the century - Quincy Pulls in Antique Brass on 50% off (maybe I am the only one loving brass?). Let's keep being impulsive. Sold.
Now I'm forced to learn patience...the hardware will arrive later this week. In the mean time, I finally buy a frame for my gorgeous
Leigh Viner print
. End up spending more on a custom mat than the frame. Can't win 'em all. Mat will be ready for Friday....all good things are worth waiting for?
Back with photos very, very soon.