It often astounds me what we did before computers. In those moments when I age myself from twenty-something to sixty, I find myself wondering what I did with all of that time? As a young girl, I recall spending Saturday mornings baking cakes (for no reason), or begging my Mom for a dog. The closest thing to computers that I remember was hearing my brother playing Duck Hunt. Other than that, we didn't really have need for an office.
Now, with a handful of computers and the growing need for space, even the non-business professionals of the world need an office. And space. We all need more space.
So I'm reverting to the age-old secretary desk. The space-saving, junk-disguising, storage-saving desk that can be quaintly tucked into a kitchen, hallway, bedroom or living room without much notice. I think they're ideal for condos and cottages in particular. Here are a few of my favourites.
This secretary below is truly my favourite; a classic combination of ivory and veneer, circular hardware and classic lines. It's feminine exterior disguises a masculine compartment. Available at
Hickory Chair
, this piece became infamous in a New York City apartment earlier this year. Recall
Big's
TV cabinet?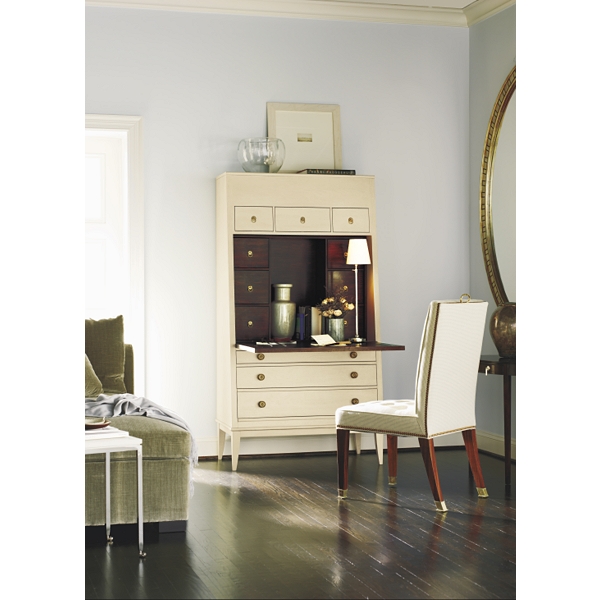 This
Portofino

Desk by Stanley Furniture
is adorable with its traditional cabinets and antiqued finish. I'd love to see this piece in a cottage or country home (loving the black finish as well).
What's a furniture post without giving
IKEA
a little credit? Though a very simplistic model, this
ALVE

secretary
is a steal at $249. For me, I would probably spruce up the hardware for a menial $20, but otherwise this piece is great.
I realize I've been very conservative with my choices - all neutral colours, similar styles, etc. But how could I resist showing you this? The first thing in the history of Restoration Hardware that I think has crossed the line! This
Mayfair Steamer Secretary Trunk
(on wheels) functions beautifully I'm sure. Leather, nail heads and antique patina...what's not to love? But this just feels like an obnoxious joke.
If you have room to swing this "trunk" shut, you probably have room for a full-fledged desk, chair and area rug. And to the rest of us, that's called an office.
Okay, back to serious design talk.
Gorg
. French Key secretary from
Tonic Home
. Everything a secretary is meant to be (take notes, Restoration).
And if you just so happen to forget your laptop altogether, pretend you're in an old movie and use it to write a good, old-fashioned letter instead.