On Monday night, I finally got around to making one of my favourite blogger's (www.stephmodo.com) recipe recommendation -
Fettuccine with Shrimp and Creamy Lemon Sauce.
It was delicious and easy to make!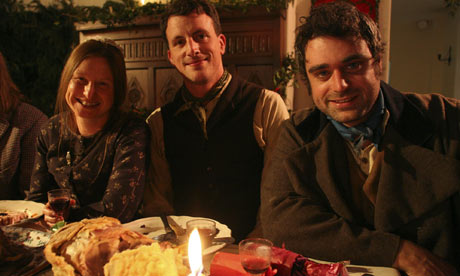 I'm guilty of eating in front of the TV most nights, with a typical rotation of Slice, HGTV and Food Network. But instead, I stumbled across a
Victorian Christmas special
that was so charming I watched the whole thing. Something about this time has always fascinated me, and the Christmas traditions, crafts, remedies and lifestyle were so humbly embraced by these three fun-loving historians. Visit their
website
if you're interested in seeing more (I realize I sound like a real old soul by recommending this, but it's worth a browse)!
It made me think about simple, traditional ways to decorate the home that aren't necessarily about sparkles, gold or excess. Here are a few Victorian Christmas-inspired photos from Martha Stewart, Habitually Chic, This Is Glamorous and Little Book of Secrets.
Of course, it's a little late to be changing up the decor for this Christmas, but even a simple touch like gift tags can bring some old fashioned charm. I'm loving these handmade fabric gift tags by
Mademoiselle Poirot
, and highly recommend visiting her
blog
and
Etsy shop
!