This little nightstand is nothing fancy. In fact, it's a cheapy from Home Outfitters many years ago, but I like it and it fits beside my bed perfectly.
I've been a craft/DIY lover since I was young, but lately I find it difficult to leave any off-the-shelf item untouched. Nothing is ever quite perfect until it has a coat of paint or "custom" detail to complete it.
Here's one of the nightstand shelves before...as in, sprayed melamine. Good thing I styled this photo with Kleenex, inhalers and two books I haven't read since October.....
Anyway, these shelves pop off the pegs very easily (part of the heavy duty construction, I suppose) and make DIY-ing incredibly easy.

Before I go any further, I should confess that I'm a huge fan of anything marble, particularly Calcutta and Statuario. I love the crisp white with bold veining. Even this marble quarry is a thing of beauty...



Here's an installation of bianco carrara that I love (in addition to the freestanding tub).
After finishing a project, I was left with a single 12x24" polished marble tile. Typically this would be tossed aside, but it was too much a thing of beauty to just dispose of or leave for future projects! I held on to it and decided this single piece would be enough to refinish two of the nightstand shelves.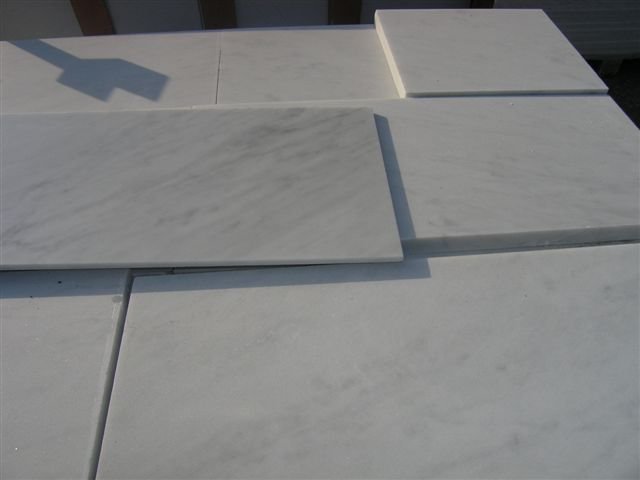 The tile was cut to fit on top of the existing shelves.
A little silicon caulking was enough to secure it in place.
The top shelf fell a little short in depth, so a smaller strip had to be inserted. We aren't expert tile fabricators, but a little more caulking glued everything in place. After it dried, the excess scraped off easily.

Drum roll...here's the finished product:

It's certainly a very minut piece of marble compared to the large marble slabs I typically lust after, but even this small improvement made the nightstand feel more luxurious. The idea of turning something ordinary and big-box into something personal, that incorporates marble no less, is my favourite kind of DIY project.